The trade: Buy put options on Intel ahead of earnings.
Goldman Sachs often issues "tactical trade ideas" to their clients — the most recent of which is this bearish trade in Intel (INTC) – Get Intel Corporation Report, issued on Thursday. The trade was discussed on the day's edition of CNBC's Halftime Report, with each of the pundits having differing views on the trade.
Gilman Capital's Jenny Harrington called the trade into question, stating that it was 
"…getting bearish at the wrong time […] here's the thing. Intel's already down 36% year-to-date, which I might say is 20% better than Nvidia. It's trading at 10.5x. To me, it's way too risky to put a short position on something that's already down that much. I think the bad news is already baked-in to Intel. […] That's part of the reason I own it — it's just cheap. It's just producing cash. […] It's the 8th largest contributor to S&P 500 earnings."
Shorthill Capital's Steve Weiss took the opposing position, disagreeing with Jenny, and siding with Goldman's bearish trade. 
"Companies stockpiled semis. Everybody thought they'd never get them again, so they bought as many as they could from as many places as they could. So now they have that excess inventory. […] I no longer own any chip names. Haven't for a long time."
Ritholtz Capital's Josh Brown agreed with Steve, and added one more piece of bearish evidence: the bearish downtrend in the entire semiconductor sector.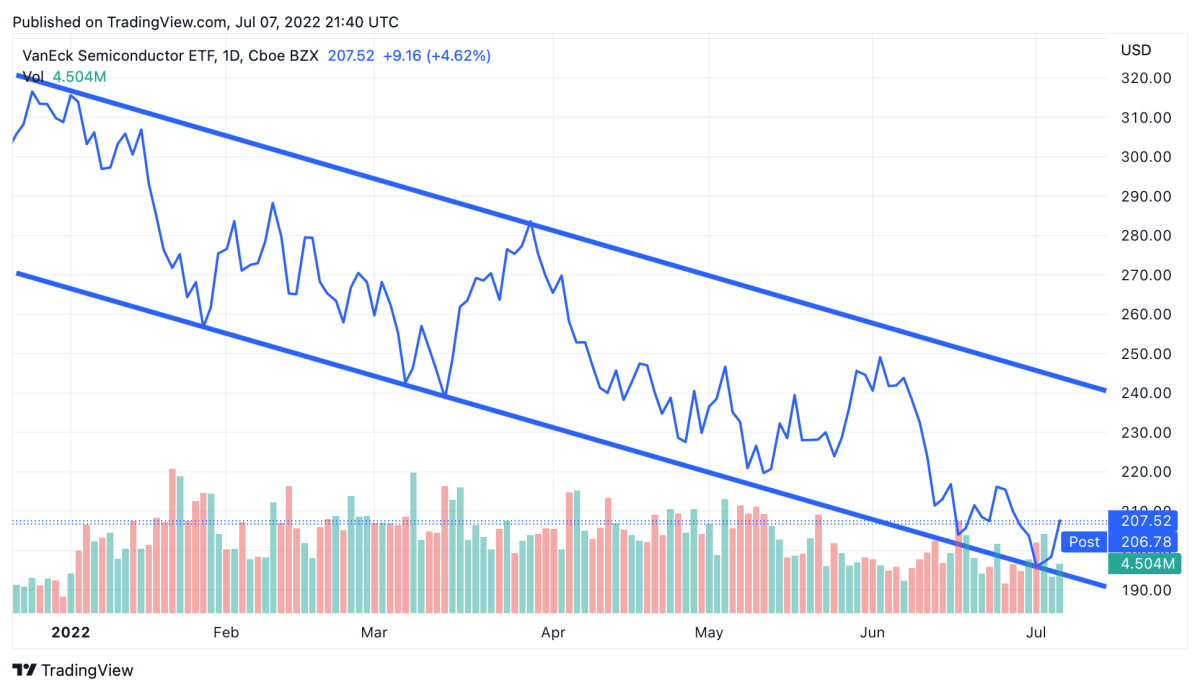 A bearish downtrend in the VanEck Semiconductor ETF, SMH. Source: TradingView
With these different opinions in mind, let's dig deeper into Goldman Sachs' Intel trade.
Breaking Down the Trade: Intel Puts
At market close on Thursday (the day of Goldman's note), Intel was trading at $38.15. A slightly out-of-the-money $37.50 strike put option in Intel expiring at the following monthly expiration date (August 19th) costs $1.84, indicating an implied move of -6.36% by August 19th, and carrying a breakeven of